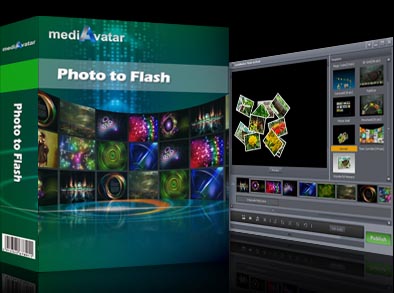 Photo to Flash
Create photo slideshow gallery as easy as 1-2-3
Convert photos to flash slideshow and dub your favorite music into the photo flash
Make photo slideshows with plenty of flash templates, easy!
Turn photos into flash slideshows in SWF, SWF+HTML or XML formats
Share your photo flash slideshow or 3D photo gallery with friends via blog, social media networkings or elsewhere
The best yet easy photo flash software to make gorgeous photo flash slideshows, then enjoy and share your photos on social media sites or with friends, you should try this mediaAvatar Photo to Flash. Import, edit, convert and share your photos as flash slideshows. This photo flash builder helps you create photo flash slideshows fast and easily by choosing from dozens of templates to create a theme, adding featured background music and effects, making photo flash into SWF flash, SWF flash+HTML or XML file and then uploading the photo flash slideshows to the web or sharing them with friends or backing up them on disc.
With this fantastic photo gallery software - mediaAvatar Photo to Flash, quickly share your favorite photos and dazzle your friends with amazing photo flash slideshows!

Output Device(s) & File Format(s) Support
Input File Formats Supported

Image
JPG, JPEG, PNG, GIF, BMP, TIFF, XBM, XPM
Audio
AAC, AIF, AIFF, AC3, APE, AU, FLAC, MPA, MP2, MP3, OGG, RA, WAV, WMA, M4A

Output File Formats Supported

SWF, SWF+HTML, XML
Download mediAvatar Photo to Flash for a free trial to create your eye-catching photo flash slideshows now!