How to export iPhone contacts to Mac and restore contacts from backup
- A through guide about mediAvatar iPhone Contact Transfer for Mac
mediAvatar iPhone Contact Transfer for Mac is especially designed for Apple iPhone users to backup contacts info, preventing it from accidental loss. Backup iPhone contacts to csv or vCard files that can be exported to Yahoo address, Google contacts or restored to iPhone in future, as well as import contacts from csv or vCard files created from other Address Books. Here we will introduce how to backup and restore iPhone contacts, and manage iPhone contact item using mediAvatar iPhone Contact Transfer for Mac.
Backup iPhone Contacts to Mac;
Restore iPhone Contacts from backup;
View and manage iPhone contact info on Mac
Download and launch the software, you will see the interface like this: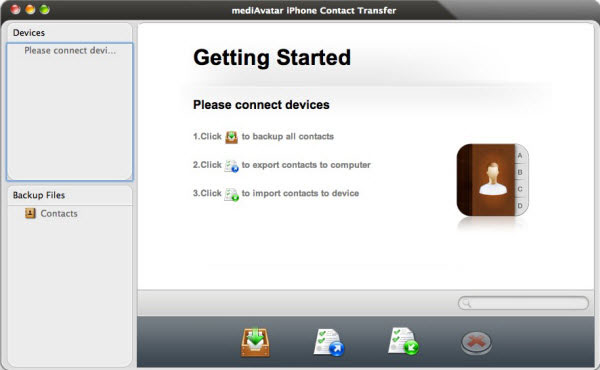 Connect your iPhone to Mac, and then you will see the phone info is read by this iPhone contact transfer: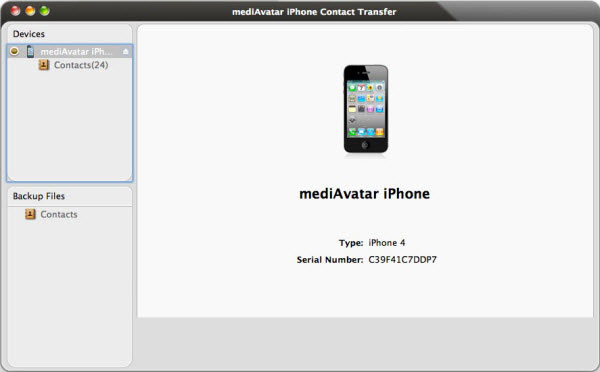 Backup your iPhone contacts to Mac- in two ways
Backup all contacts in your iPhone to mediAvatar backup fileAfter loading all contacts info in iPhone, you need just click the first "backup all contacts" to backup all the contacts to Mac.


When finished, you will see the created backup file shows in the interface. The backup file can be opened directly by this software next time even without iPhone connecting. And you can restore iPhone contacts from this file.

Backup iPhone contacts to Mac as csv or vCard files
Check all or several contact items in the contact list and click "Export contacts to computer" button to export checked contacts to Mac.

Then choose the file type you want to backup to from the three options- "Export to .csv file for google Contacts", "Export to vCard files(.vcf) for OutLook", and " Export to vCard single file for other Address Books". Choose the file type according to your needs, and if want to backup the contacts for iPhone restore, choose the third options.
Restore/Export iPhone contacts from backup files
Restore iPhone contacts from mediAvatar backup file After connecting the iPhone to Mac, choose the backup file created before in the software interface, and click "Restore All Contacts to Device" button to restore all the contacts to the iPhone. And please note, after restored, all contacts on the connected iPhone will be cleared and replaced

Export contacts from CSV, vCard files
The CSV, vCard backup file can be created by this software before or you exported from Google contacts, Yahoo address book, or other address books. To import these contacts, click "Import Contacts to Device" button and choose the file to import. After importing, the nonexistent new contacts will be added to the list without overwriting old items.

Choose the CSV or vCard file type
View and manage iPhone contact info on Mac
iPhone-contact pattern view mode
mediAvatar iPhone Contact Transfer for Mac displays the contact info as iPhone-contact pattern.

Use search box to find the contact you want

Sort the contacts
You can choose to sort all the contacts by name, phone number, address or other item.

Fast delete contacts in batch
Check the expired or unwanted contacts and click "delete contacts" button, you will remove them from list very conveniently via mediAvatar iPhone contact transfer for Mac.
After you finish all the backup/restore operations, please remember to click "eject this device" to eject your iPhone.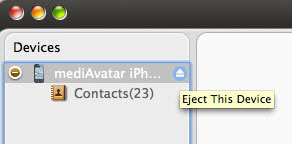 Easy to use iPhone backup software on Mac, irreplaceable tools for iPhone users.