How to rip and convert DVD movies to iPad videos?
- You may need: mediAvatar DVD Converter or mediAvatar DVD to iPad Converter
Many iPad users may want to watch DVD movies on their iPad, but how to rip and convert DVDs to iPad videos? You can find your DVD to iPad solution in mediAvatar DVD Converter.
Besides ripping DVD to iPad, this DVD to iPad converter can also clip, merge, split videos, add transitions effects, adjust video image effects and do many other customizations to make sure you convert DVD to custom iPad movies you want.
We would describe how to rip DVD movies to iPad video files below in 3 simple steps.
After you download, install and start this mediAvatar DVD Converter for iPad, you will see that the DVD to iPad converter's main window looks like this: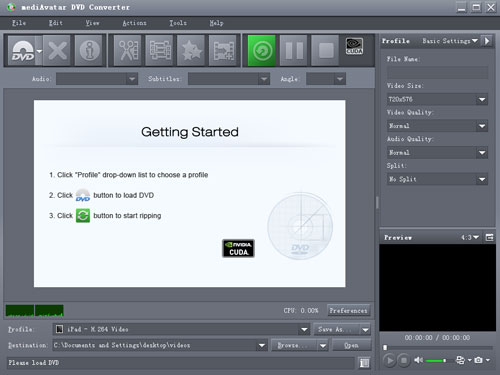 Step 1: Load DVD movie into this DVD converter for iPad
Insert DVD movie disc to this DVD to iPad converter, then click on "Add File(s)" button on the toolbar or "File > Open DVD" menu option to load the DVD disc you insert.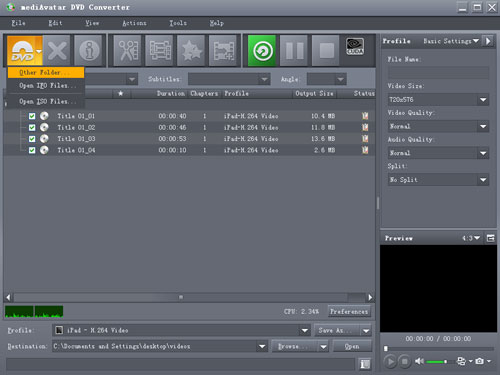 Step 2: Choose iPad video format as output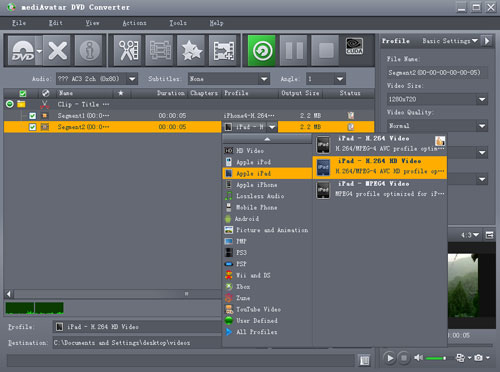 As you can see, this mediAvatar DVD Converter for iPad sorts the conversion profiles by common use, devices and user-defined.
Check one or multiple DVD titles, click to open "Profile" drop-down list below the file list to choose the "iPad H.264 HD Video" as output format from "Apple iPad" category. And click "Browse" button to choose the output folder for saving the converted iPad video files.
To explore more customization features about this DVD to iPad video converter, let's go on.
If you want to clip DVD movie to convert to iPad, choose the DVD title you want to clip from the file list, and enter "Clip" window to extract any video clip you want.
If you want to merge several titles or clips into one, then click "Merge" button on the toolbar to merge these DVD items into a single file for converting to iPad videos.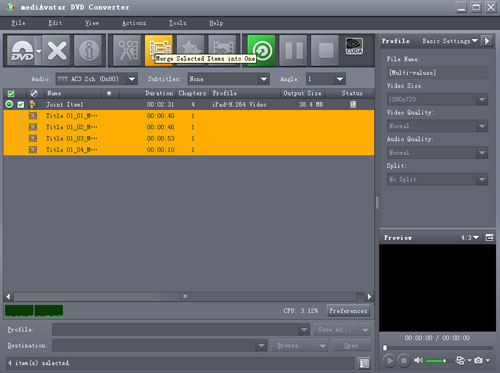 Step 3: Rip DVD movie to iPad
After the above settings, click "Rip Checked Item(s)" button on the toolbar to start converting DVD to iPad!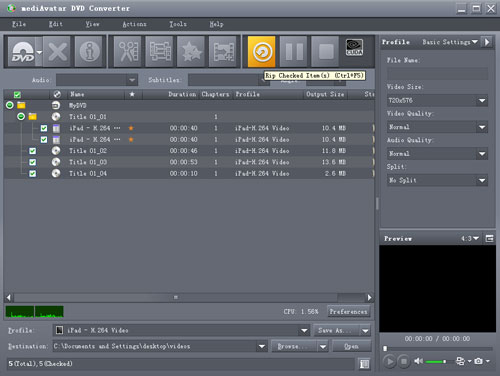 It has never been easier to rip DVD movies to iPad videos with this mediAvatar DVD Converter for iPad!
However, this DVD converter do more with your DVD movies before you convert DVD to iPad! Want to have a trial now? Go to mediAvatar DVD Converter for a free trial version to find more.
Related Products: mediAvatar DVD Converter, mediAvatar DVD to iPad Converter
Knowledge:
What is DVD-Video?
DVD-Video is a consumer video format used to store digital video on DVD discs, and is currently the dominant consumer video format in Asia, North America, Europe, and Australia. Discs using the DVD-Video specification require a DVD drive and a MPEG-2 decoder (e.g., a DVD player, or a DVD computer drive with a software DVD player). Commercial DVD movies are encoded using a combination of MPEG-2 compressed video and audio of varying formats (often multi-channel formats as described below). Typically, data rate for DVD movies range from 3 Mbit/s to 9.5 Mbit/s, and the bit rate is usually adaptive. It was first available for Retail in around 1997.
iPad
The iPad is a tablet computer designed, developed and marketed by Apple primarily as a platform for audio-visual media including books, periodicals, movies, music, games, and web content. At about 1.5 pounds (680 grams), its size and weight fall between those of contemporary smartphones and laptop computers.
--- From WIKIPEDIA